Please check out our newest Digital Mixer products at: www.audiomixingplatform.com!
Please Note! The PM202 is no longer in production.
Information is presented here for legacy info.
NLE has designed, produced, and marketed the PM202 - the only high-power 12V DC Powered mixer of its time. This unit features a two-channel mixer with both microphone and line-level input, and delivers well in excess of 200 Watts RMS power into a 4 ohm (typical two-speaker) load. Perfect for outdoor events such as parade floats, advertising, small bands, public-address, and more.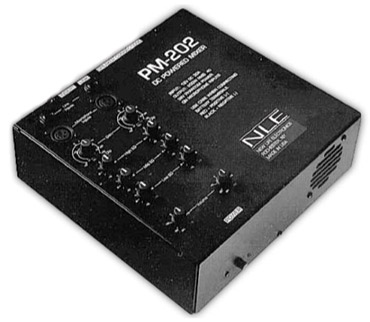 Suggested retail price: $429 Quantities are limited, please call us for further information. (Click on the picture for the PDF brochure)
We also carry many different lines of Professional Audio equipment. From wireless microphones to mixers to speakers, we can recommend the product that will provide the best bang-for-the-buck for your system.
We service what we sell! One of the major advantages of purchasing equipment from us is that if there is a problem, we are here to make it right. If an item needs repair, we can usually provide a loaner during the repair time. Service is the reason our customers refer others to us! We take care of our customers in a way discount mail-order houses cannot.